Global Action Day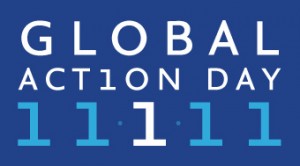 Effective global action requires an ability to value what other people know—a shift in perspective that ends in enriching our own community as well as making our efforts on behalf of others more likely to succeed.  The cultivation of intellectual diversity and the broadening our cultural knowledge can only change our world for the better.
We recently learned that this November 1st (11.1.11) has been proclaimed by Seattle's Mayor Mike McGinn to be Global Action Day: a day to recognize the accomplishments, innovation, and impact of Washington State's growing global development sector.  Washington State is becoming a hub of non-profit and non-governmental outreach around the world, with organizations—including some of the world's largest—working to reduce disease, provide educational opportunities, and strengthen communities and economies worldwide.  In fact, as many as one out of every three jobs in Washington state is in some way related to foreign trade and international development.
At NWLA we know that global development and the vast geographical reach of development organizations present opportunities for cross-cultural communication and learning, as well as a real need for the kind of cultural understanding that we have made it our mission to share.
This was what Dr. Solomon Zewdu learned, working with tuberculosis and HIV patients in Ethiopia, when he used the local people's reliance on holy water and religious healing to help encourage them to seek treatment.  Instead of trying to combat Ethiopian religious and cultural beliefs, Dr. Zewdu, in cooperation with religious leaders, helped locals to understand that the holy water and medicine were part of the same system of healing, and set up a clinic near the site of the holy springs.
In Malawi, where conventional wisdom has it that there is only a 50-50 chance that a woman will survive childbirth, hospital workers are working with agogos, or grandparents, the traditional guardians of knowledge and tradition, to shape new and safer birthing practices.
Scientists studying global climate change at the National Oceanic and Atmospheric Administration's Earth System Research Laboratory in Boulder, Colorado, are combining modern science with indigenous environmental knowledge and weather forecasting methods to learn more about the Arctic climate.  Inuit communities in the Canadian Arctic—for whom the weather can be a matter of life or death—provide the scientists with their own observations and stories.  By offering new categories of information and new perspectives, the Inuit forecasters are helping to develop an understanding of the rate and type of climate change occurring in the region. As one of the scientists said, "When you treat these perspectives as different forms of evidence or knowledge and see where that takes you, that is when exciting stuff happens."
Global Action Day is intended as an opportunity for Washingtonians to learn about stories like these, and about the ways in which our state's investment in technology, resources, and knowledge abroad betters the lives of people around the globe while also strengthening our own communities culturally and economically.  We hope it will also be an opportunity to focus on the ways different cultures can learn from each other as community becomes global.