Language of Food Bulgaria: Discover Bulgarian Cuisine
NWLA's Language of Food Bulgaria event is fast approaching! Our menu for the evening promises to be a delicious sampling of Bulgaria's healthy, multifaceted cuisine, including popular national dishes like banitsa, shopska salat, kyopolou, moussaka, kebapcheta, and baklava.  If these names leave you perplexed, not to worry: below is a primer on Bulgarian food to educate the palate and whet the appetite before the event.  Be sure to reserve early at [email protected] or by calling (360) 321-2101 to experience this rich cuisine in person!  Sign up for our "Secrets of Bulgarian Cuisine" cooking class before the event to learn some of these recipes yourself.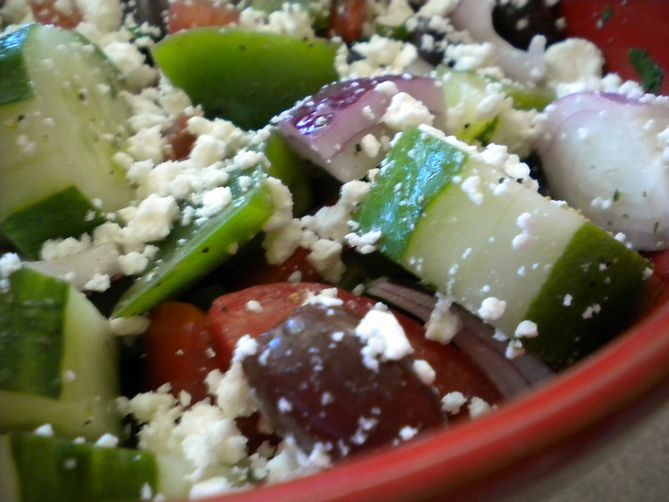 Food is an integral part of the Bulgarian lifestyle, and has long been one of the great pleasures for a population whose history was not always a happy one.  Recipes tend to be passed down within families, generation to generation, and one can read the country's history, and that of its people, in the food, which has always emphasized ingredients that are local, fresh, and natural.
The variety of Bulgaria's cuisine–which incorporates Oriental, Mediterranean, and European elements–is due in part to the country's long history of playing host to migrating populations and tribes, beginning with the Thracians, Slavs, and Bulgars over 1300 years ago.  A 500 year rule by the Ottoman Turks, and Turkey's near proximity, has had a marked influence, as has the food of nearby Greece and the former Yugoslavia. The result of this blended history is a slate of hearty dishes characterized by lots of fresh vegetables, garlic, onions, and pungent spices.  Take kyopolou for instance: a thick relish made of roasted eggplant, tomatoes, and red peppers, seasoned with plenty of garlic and parsley, that's eaten either with bread or on its own as a kind of salad.
Bulgaria's relatively mild climate and preponderance of rural countryside helps explain the great variety of salads in the country's cuisine: almost everyone grows vegetables, and homegrown, natural produce is a matter of pride.  No Bulgarian garden is complete without tomatoes, cucumbers, cabbage, red and green peppers, zucchini, lettuce, eggplant, and garlic, along with herbs like parsley, summer savory (choubritza), and thyme.  Walnuts, hazelnuts, and wild mushrooms are used seasonally as well.  The indispensible shopska salat is made with tomatoes, cucumbers, and cirene (a white feta-like brine cheese), and is usually served with a glass or three of rakia, Bulgaria's homegrown plum brandy.
When Bulgarians eat meat, it is often grilled–kebapches, for instance, are a grilled minced-meat sausage of pork, beef, or lamb that are often sold along the road in the Bulgarian countryside.  Other grilled sausages and skewers are often eaten, and for special occasions, Bulgarians make a cheverne, a whole, spit-roasted pig or lamb that is hand-turned on a wooden skewer for 4-7 hours over an open fire.  Meat can also be enjoyed in mousaka, a layered, casserole-like dish of potatoes and minced pork, served with yogurt.
The best-known products of the country are its yogurt and cirene, and these are consumed daily by most Bulgarians.  More or less every Bulgarian meal will include both of these things in one form or another.  Yogurt is usually made from cow's milk, though sheep and buffalo milk can be used as well.  A spoonful of the last batch of yogurt is added to the warm milk, which is then kept out overnight to culture.  The Bulgarians sometimes claim to have invented yogurt, and while this may not be strictly accurate, they have certainly consumed a great deal of it as far back as 3000 BC.  The name of the yogurt culture Lactobaccilus bulgaricus celebrates the food's importance to the country's history.  Cirene cheese is made either with cow's or sheep's milk–the former is used in cooking, while the latter is usually eaten plain.  Bulgarians also make a yellow cheese, called kashkaval.  Cirene is used in banitsa, a common breakfast or appetizer pastry of flaky dough and cheese.  It can sometimes also be made with leeks or spinach.
The meal ends (sometimes hours later) with thick Turkish coffee and a piece of baklava, the sweet, honey-drenched pastry filled with walnuts.  Sometimes, Bulgarians will also eat halva, a tahini-based confection, also sweetened with honey.
Bread is certainly important in Bulgarian culture.  Besides being eaten with every meal, it often has a ritual importance: Easter, for instance, is celebrated with kozunak, a sweet eggy bread that's braided in the shape of a crown.  Bulgarians like to meet their guests at the door with an offering of bread, salt, and brandy, which signifies a wish that one should always have food and drink, and that life should always have flavor.
We look forward to introducing our community to a little of the Bulgarian flavor at NWLA's event Moi Koleda: Language of Food Bulgaria on December 7th.  Visit www.nwlanguageacademy.com for details, email [email protected], or call us at (360) 321-2101.